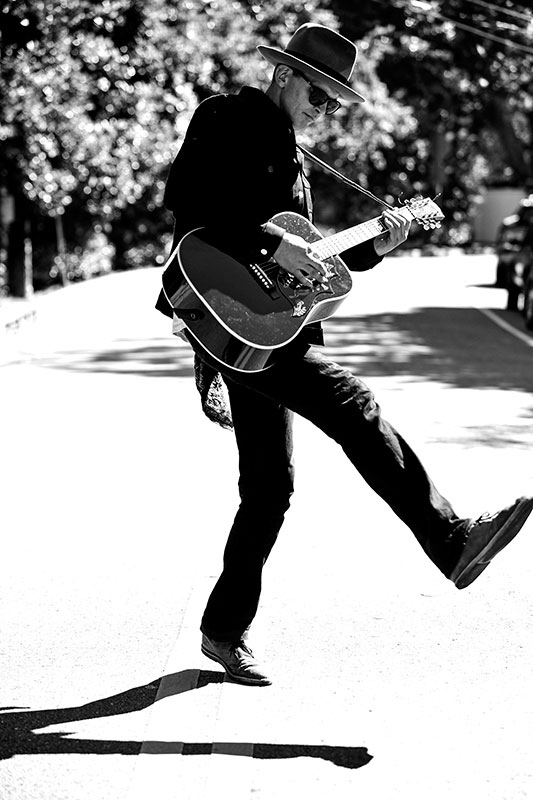 You might've heard a story or two about Ashley Hamilton You probably know who his parents are—namely legendary actor George Hamilton and Alana Stewart (his stepdad's first name is Rod, by the way). Of course, there's a myriad of tales about his trials and tribulations overcoming addiction and right now, he's starring alongside his famous family in Stewarts & Hamiltons on E! However, there's one story that really matters to him, and that's the new Act 1 EP from his band Ashley Hamilton & The Lonely Hearts [LAVA/Republic Records].
"I want to stay true to myself," he declares. "That's what this EP is. It was about going back to my roots. All of the people I admire stay true to who they are—I just wanted to do the same."
Ashley is no stranger to music. He co-wrote "Come Undone" for British star Robbie Williams, and he's collaborated with everybody from Hilary Duff to Scott Weiland. He even was part of the storied super group, The Wondergirls, with Weiland and Troy Van Leeuwen [Queens of the Stone Age, A Perfect Circle, Failure]. However, he'd taken what he calls a "10-year sabbatical" from music, until Stewarts & Hamiltons began shooting.
"The show was the catalyst for me to start doing music again," he affirms. "I was finally in the right headspace, and I was inspired. Tons of music has touched my life, and I wanted to do the same thing. When you create something from nothing and it influences people, it's the most amazing feeling imaginable."
So, he hit NRG Studios in North Hollywood with producer Jay Baumgardner [Godsmack, Bush, Three Days Grace] to cut an album of covers. The producer pushed him another direction.
"Jay was the one who said, 'You've got to do originals,'" he admits. "He wouldn't stop pushing me. It gave me this real confidence, which was something I could never get from drugs. I let go of the fear."
While in the midst of recording, LAVA Founder and C.E.O. Jason Flom came to the studio for another meeting. Fast-talking, ever-charismatic, and newly confident Ashley convinced him to listen to what he and Jay created. Shortly after, Flom signed Ashley Hamilton & The Lonely Hearts.
The single "S"All Good" offers an important declaration for Hamilton. "Sometimes, we all feel like our lives are going nowhere," he says. "The more you think about how bad things are going on in your life, you just give it more power. Sometimes you just gotta sit back and know, it"s all good. 
Another mainstay on the EP "Half of It" brings acoustic guitar, haunting harmonies, a bluesy solo and soulful crooning, the track instantly engages.
"To me, it's rooted in relationships and life," he explains. "When you get that second shot, you really have to focus and make things happen. I know that firsthand. That's just what this means to me. It's up for interpretation. As I'm writing songs, I really get the chance to express my feelings in a cathartic manner."
Ultimately, Ashley is finally getting to tell his story for the first time on tape.
"I don't do this for money," he leaves off. "It's about the art of it all, and I've overcome so many things to stay here. It's all been a labor of love, and then it became something bigger than me, which is amazing."